The Efinix® Efinity® IDE provides a complete RTL-to-bitstream flow. With a simple, easy to use GUI interface and command-line scripting support, the Efinity software provides the tools you need to build designs for Trion® FPGAs.
Features:
Project management to keep your design files organized

Support for Verilog HDL, SystemVerilog, and VHDL languages
Graphical views of design hierarchy, result files, and reports

Easy to use dashboard to run through the flow (synthesis, placement, routing, bitstream generation) automatically or manually
Interface Designer to constrain logic and assign pins to blocks in the device periphery
Floorplan Editor to browse through your design's logic and routing placement
Timing Browser and static timing analysis to measure your design's performance

Tcl Command Console to perform timing analysis

Supports simulation flows using the ModelSim, NCSim, or free iVerilog simulators
Integrated hardware Debugger with Logic Analyzer and Virtual I/O debug cores
GUI and command-line Programmer to configure your Trion FPGA or Quantum™ core
Documentation
New in v2020.1
Debugger supports probing signals in the elaborated netlist
Support for SystemVerilog
Python 3 API for managing and manipulating Interface Designs
Improved methodology for migrating your design from one FPGA to another
Enhanced Programmer
Stand-alone Programmer for Windows operating systems
Design space exploration via scripting
Support for spaces in path names (yay!)
Improved interface for viewing messages
Support for new synthesis and optimization settings
Linux: removed the annoying QTextStream message that printed in a terminal
Want to learn more?
Efinity Software Example Screen Shots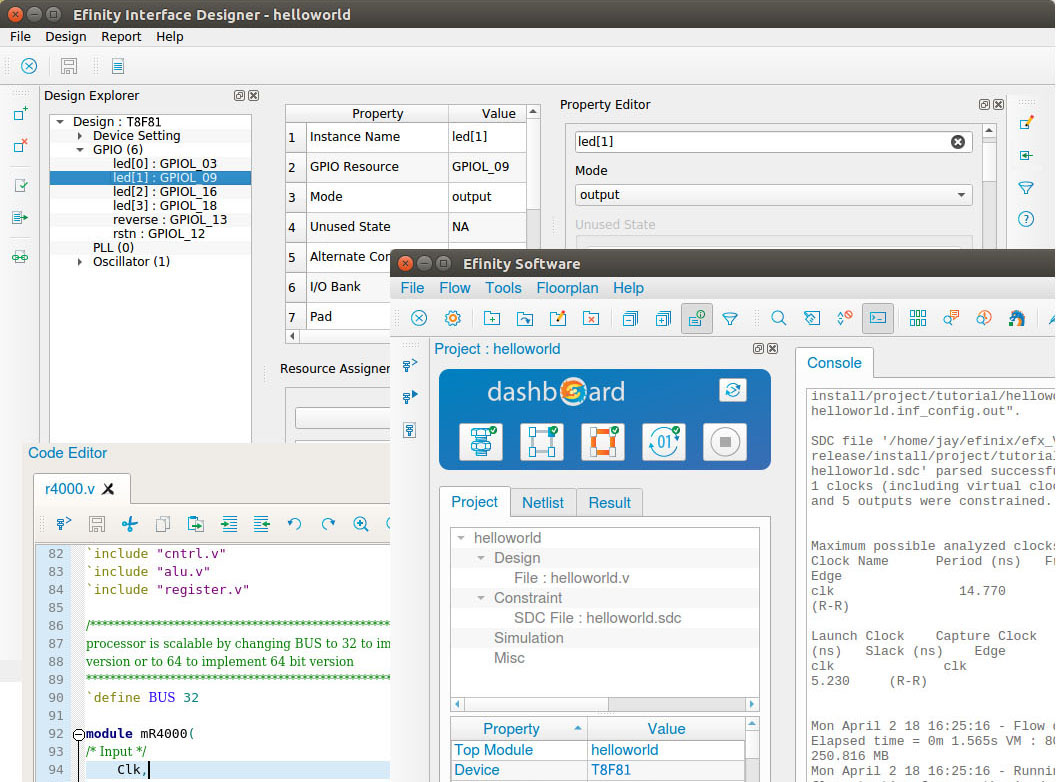 Video Gallery
The following videos walk you through how to use the Efinity Interface Designer.
Interface Designer Overview
Efinity v2019.3
How to Create GPIO Blocks
Efinity v2019.3
How to Create LVDS Blocks
Efinity v2019.3
How to Create Simple PLL Blocks
Efinity v2019.3
How to Create Advanced PLL Blocks
Efinity v2019.3
How to Create MIPI Blocks
Efinity v2019.3
How to Create DDR DRAM Blocks
Efinity v2019.3