Trion T20 BGA256 Development Kit
The Trion T20 BGA256 development kit, which is based on the T20 FPGA, lets you explore the features of this easy-to-use, I/O-rich FPGA. The Trion T20 BGA256 development kit includes a Trion T20 BGA256 development board, a USB cable, four standoffs, and four screws. Learn more about Trion FPGAs
With the development kit, you get a license for the Efinity® software with 1 year of upgrades. The Efinity software provides a complete tool flow from RTL design to bitstream generation, including synthesis, place-and-route, and timing analysis.
Features
T20 FPGA in 256-ball FBGA package
8 user LEDs
3 user pushbutton switches, 3 user DIP switches
Micro-USB port
SPI and JTAG headers to facilitate configuration
3 I/O headers to connect to external devices
50 and 74.25 MHz oscillators
LVDS TX, RX, and clock headers
256 Mb SDR SDRAM
Trion T20 BGA256 Board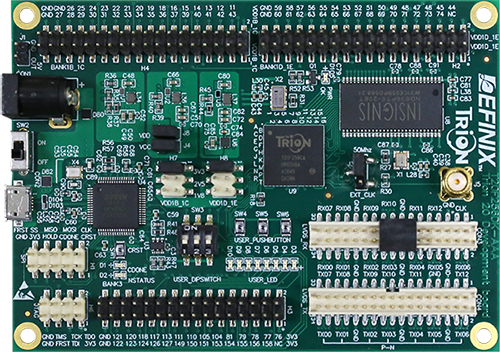 Trion T20 BGA256 Board Block Diagram
Video Tutorial
You can download the design files and documentation on the Examples page in the Support Center.