With the development kit, you get a license for the Efinity® software with 1 year of upgrades. The Efinity software provides a complete tool flow from RTL design to bitstream generation, including synthesis, place-and-route, debugging, and timing analysis.
Features
T120 FPGA in a BGA576 package with MIPI CSI-2 interface and DDR DRAM controller
LPDDR3 256 Mbits x 32 bits memory, supporting up to 8 Gb
HDMI 1080p transmitter for video output
2 RJ-45 Ethernet connectors
8 user LEDs, 4 user pushbutton switches, 4 user DIP switches
Designed to accommodate up to 9 daughter cards
Six 12-pin PMOD-compatible GPIO sockets
40-pin header to connect to Raspberry Pi computer
60-pin GPIO and configuration expansion header
10, 20, 25, 30, 40, 50, and 74.25 MHz oscillators
Micro-USB port
SPI and JTAG headers to facilitate configuration
What's in the Box
Trion T120 BGA576 development board preloaded with a demonstration design
MIPI and LVDS Expansion Daughter Card
2 Raspberry Pi Camera Connector Daughter Cards
Raspberry Pi v2 camera module with 15-pin flat cable
Micro-USB cable
10 standoffs, 10 screws, and 6 nuts
Universal AC to DC power adapter (type A plug)
The power cable has a type A plug (U.S. style). You need an adapter to use it with other socket types.
Buy Now
Trion T120 BGA576 Board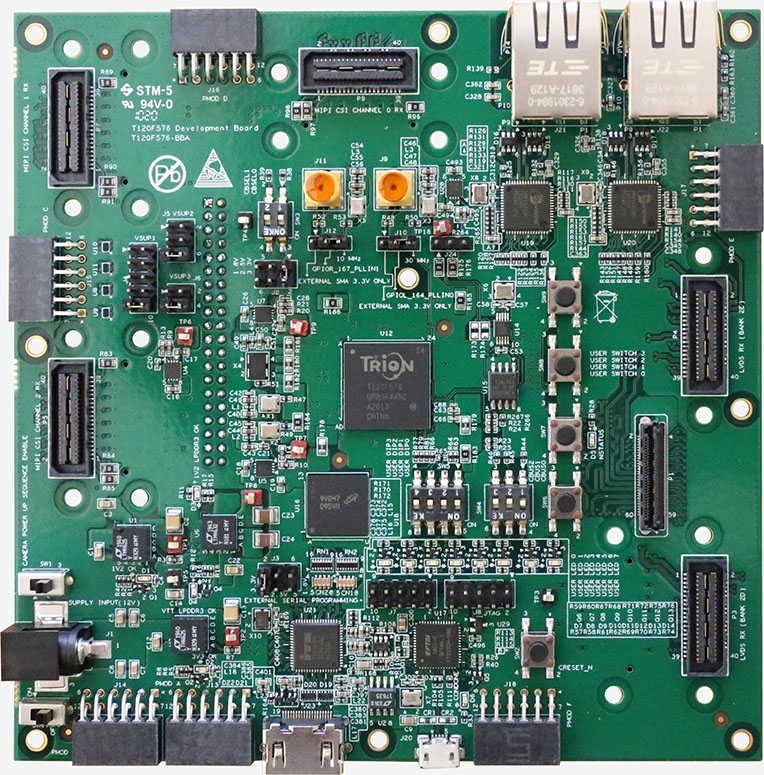 Image for illustration only. Refer to the Trion T120 BGA576 Development Kit User Guide for more information.
Trion T120 BGA576 Board Block Diagram
Video Tutorial
You can download the design files and documentation from the Support Center.