Users can stream video on a HDMI monitor from the Raspberry Pi v2 camera module which stores the video data in the development board's LPDDR4/4x SDRAM, with supporting speed up to 3.0 Gbps in x16 or x32 data width. Two IMX477 Camera Connector Daughter Cards and a Coral Camera Connector Daughter Card let users process video data from the 12.3 megapixel IMX477 camera modules and the 5.0 megapixel Coral camera module(1). The development board also has two Macronix high-performance 256 Mb SPI NOR flash chips so users can store additional user data such as RISC-V software.
This kit includes an FPGA Mezzanine Card (FMC) with additional multi-purpose QSE connectors to expand the development kit's connection capabilities. Additionally, the Ethernet and HDMI connector daughter cards are also included in the kit so users can process the data in the FPGA and send it to a display or another system. Learn more about Titanium FPGAs
With the development kit, you get a license for the Efinity® software with 1 year of upgrades. The Efinity software provides a complete tool flow from RTL design to bitstream generation, including synthesis, place-and-route, debugging, and timing analysis.
(1) IMX477 camera module and Coral camera module are not included in the kit.
Features

Efinix Ti180J484C4(2) FPGA in a 484-ball FineLine BGA package
8 Gbit (256 Mbit x 16 x 2 channels) LPDDR4 or LPDDR4x SDRAM:

Supports x32 data width
Read/Write speed up to 3.0 Gbps

2 x 256 Mbit SPI NOR flash memories

Supports Single, Dual and Quad mode for each SPI flash
Supports x8 with both SPI Flash in Quad mode

4 x QSE connectors

2.5 Gbps Tx/RX hardened MIPI interfaces

Micro-SD card slot
FPGA mezzanine card (FMC) with low pin-count connector (LPC)
USB Type-C connector to configure the development board
25, 33.33, 50, and 74.25 MHz oscillators for Ti180 PLL input
User LEDs and switches:

6 LEDs
2 pushbutton switches

Power:

12.0 V power supply connector
On-board regulator sources: 0.62 V, 0.85 V, 0.95 V, 1.1 V, 1.2 V, 1.8 V, 3.3 V, 5.0 V

Power good and Ti180 configuration done LEDs
(2) The FPGA speed grade may vary and is subject to availability.
What's in the Box
Titanium Ti180 J484 development board preloaded with a demonstration design
Raspberry Pi v2 camera module
(with 15-pin flat cable)
Dual Raspberry Pi Camera Connector Daughter Card
2 IMX477 Camera Connector Daughter Cards
Coral Camera Connecter Daughter Card
FMC-to-QSE Adapter Card
HDMI Connector Daughter Card
Ethernet Connector Daughter Card
MIPI and LVDS Expansion Daughter Card
2 22-pin flat cables
USB type-C cable
12 V, 5 A universal power adapter
Heat sink
14 standoffs, 10 screws, and 14 nuts
Buy Now
Titanium Ti180 J484 Development Board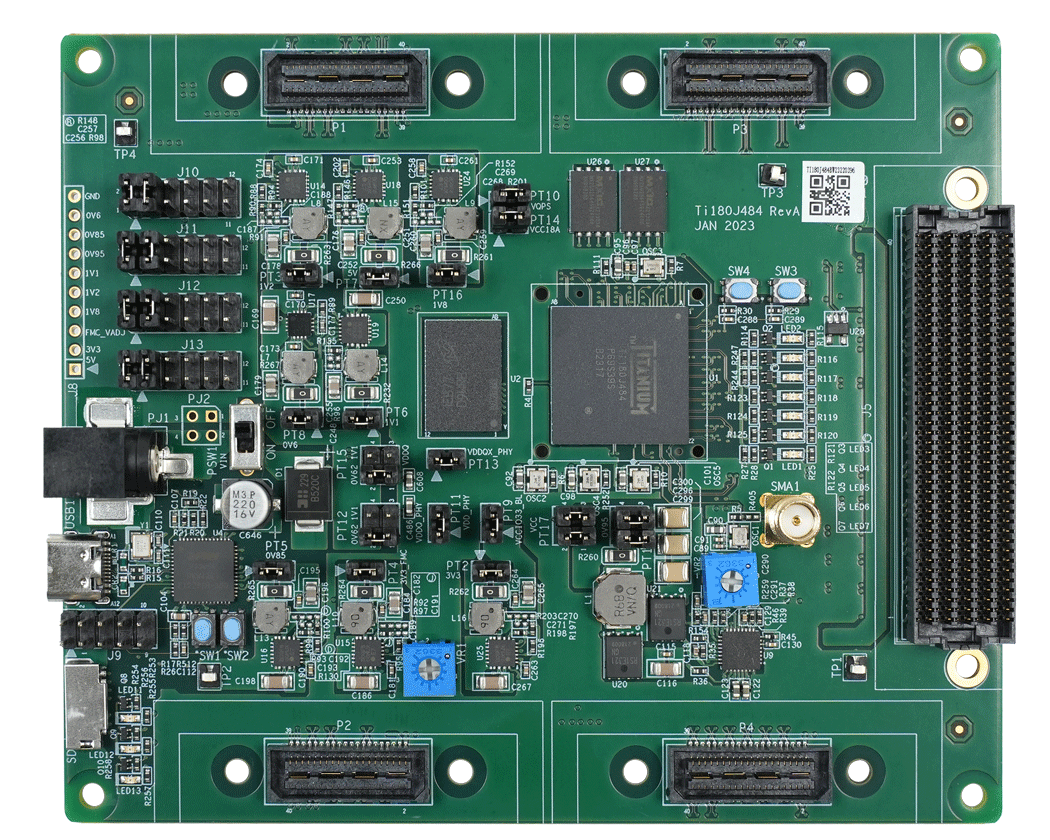 Titanium Ti180 J484 Board Block Diagram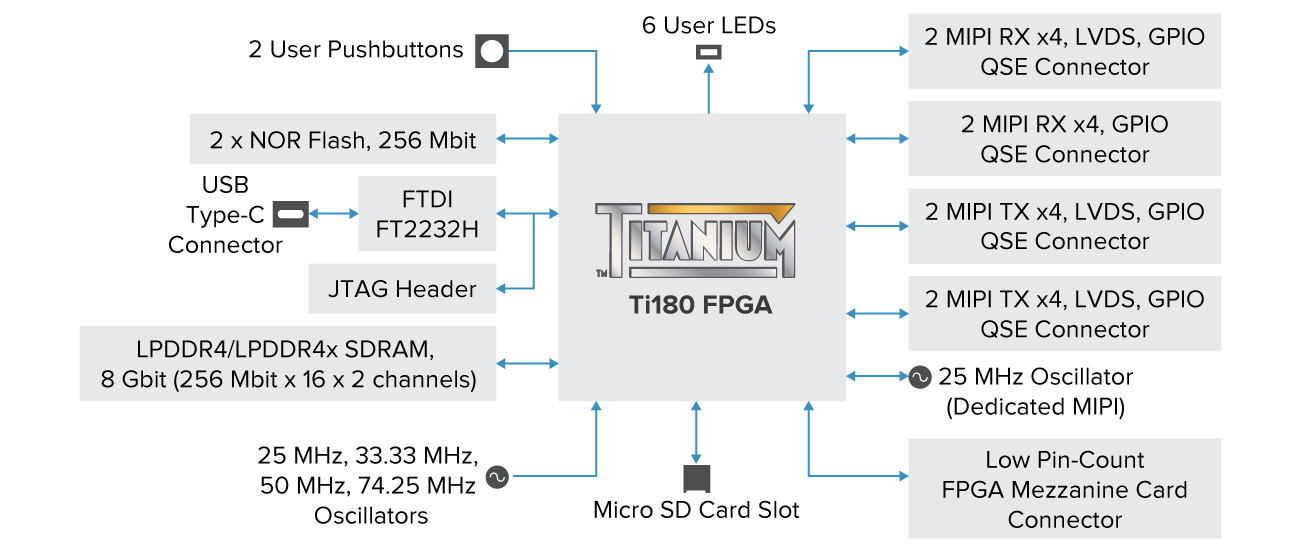 Titanium Ti180 J484 Development Kit Contents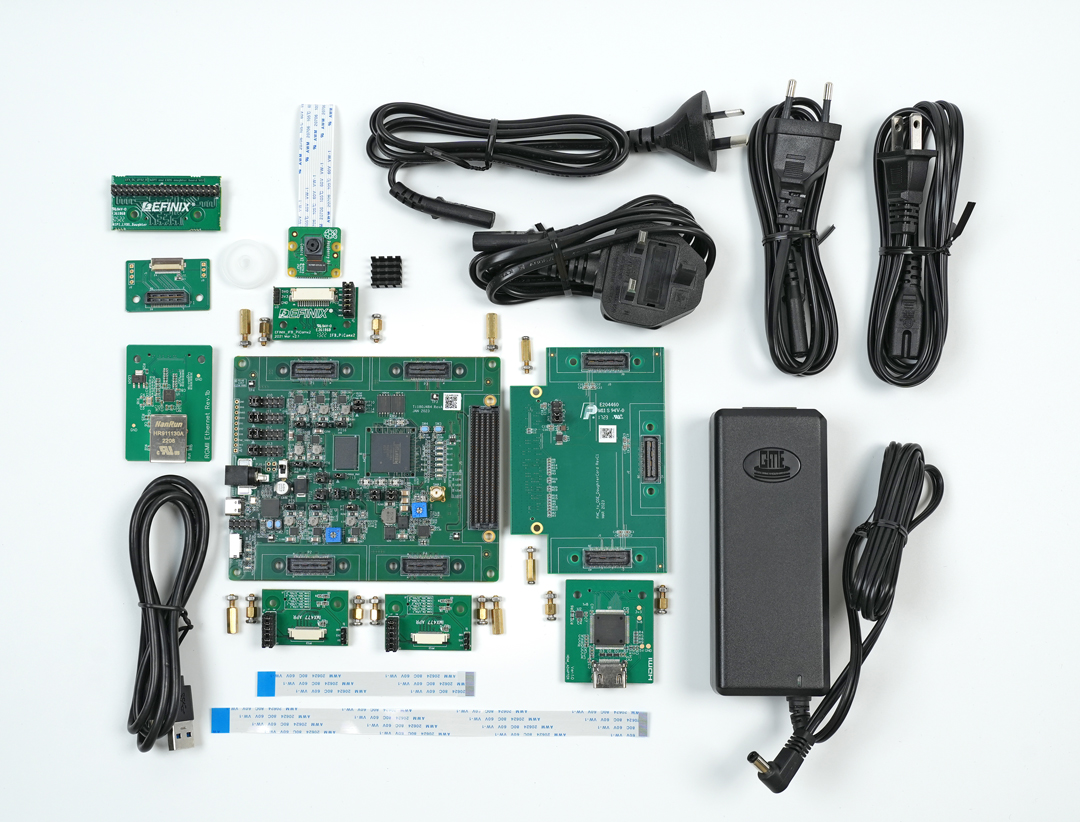 Titanium Ti180 J484 Development Kit Demonstration Tutorial Video
In this Titanium Ti180 J484 Development Kit video you will learn about what is included in the development kit, the functions in the Ti180 J484 Development Board design and the step by step tutorial on the pre-loaded design highlighting multi-input video streaming and reading the SD card information.