Trion® T85 FPGAs
The T85 FPGA features the high-density, low-power Efinix® Quantum® fabric wrapped with an I/O interface in a small footprint package for easy integration. T85 FPGAs support mobile, consumer, and IoT edge markets that need low power, low cost, and a small form factor. These FPGAs have three hardened MIPI CSI-2 controllers with independent TX/RX. Additionally, they have hardened DDR DRAM controller that supports DDR3, LPDDR3, and LPDDR2. T85 FPGAs:
Some packages have hardened MIPI CSI-2 interfaces for video and camera applications
Feature a hardened DDR DRAM interface for accessing off-chip memory devices
Have LVDS pins that operate at 800 Mbps per lane
Are built on a low-power 40 nm process
Feature high-performance I/O supporting 1.8, 2.5, and 3.3 V single-ended I/O standards and interfaces
Provide flexible on-chip clocking
Have device configuration options including a standard SPI and JTAG interfaces
Fully supported by the Efinity® software, an RTL-to-bitstream compiler
Applications
Mobile, Consumer, IoT, Edge
Features
| | |
| --- | --- |
| Logic elements: | 84,096 |
| RAM (Kbits): | 4055.00 |
| RAM (blocks): | 792 |
| Multipliers (18 x 18): | 240 |
Documents
Available T85 FPGAs
Available Packages
T85 FPGA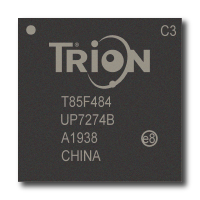 BGA324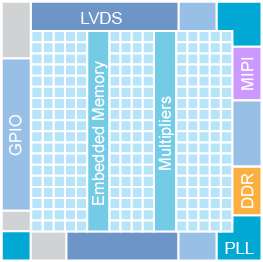 (12 x 12 mm, 0.65 pitch)
BGA484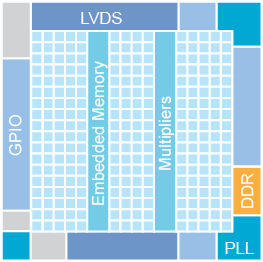 (18 x 18 mm, 0.8 pitch)
BGA576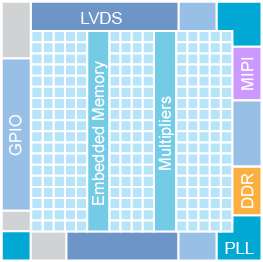 (16 x 16 mm, 0.65 pitch)
Dimensions and blocks shown for illustrative purposes.
Use Cases
Smart Camera
This complicated, intelligent camera has multiple MIPI CSI-2 sensors. The FPGA provides image processing (as well as audio processing) and runs an inferencing engine based on a trained neural network defined by the implementer. Large amounts of internal block memory in the Trion FPGA allows you to keep much of the activity on chip. Additionally, the multiplier rich architecture provides additional of performance-power-area advantages.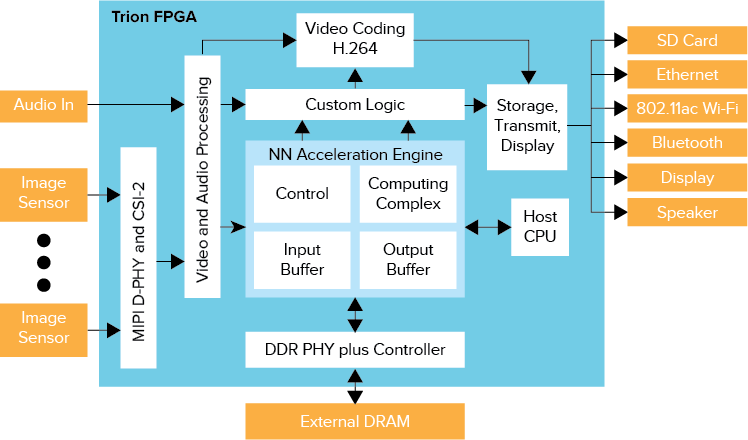 Augmented Reality and Virtual Reality
Augmented reality and virtual reality products are smart devices that can benefit from FPGAs. Beyond entertainment, they can be useful for remote assistance and knowledge sharing. In these and similar applications, the performance advantage of Trion FPGAs is key. Additional driving factors are Trion FPGA's small size and power. Our hardened MIPI CSI-2 functionality helps reduce power, and Trion FPGAs have a smaller chip area compared to other solutions.