Trion® T4 FPGAs
The T4 FPGA features the high-density, low-power Efinix® Quantum® fabric wrapped with an I/O interface in a small footprint package for easy integration. T4 FPGAs support mobile, consumer, and IoT edge markets that need low power, low cost, and a small form factor. T4 are available in quite small packages with really low power because they are produced on a special low voltage process. These FPGAs are more a minimalistic offering for hand held, control plane, and other functions. T4 FPGAs:
Are built on a low-power 40 nm process
Feature high-performance I/O supporting 1.8, 2.5, and 3.3 V single-ended I/O standards and interfaces
Provide flexible on-chip clocking
Have device configuration options including a standard SPI and JTAG interfaces
Fully supported by the Efinity® software, an RTL-to-bitstream compiler
Optional mask option, that allows you to eliminate the configuration device, thereby saving space and costs
Applications
Mobile, Consumer, IoT, Edge
Features
| | |
| --- | --- |
| Logic elements: | 3,888 |
| RAM (Kbits): | 76.80 |
| RAM (blocks): | 15 |
| Multipliers (18 x 18): | 4 |
Documentation
Available T4 FPGAs
Available Packages
T4 FPGA


BGA49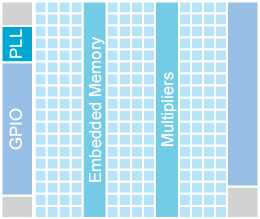 (3 x 3 mm, 0.4 pitch)
BGA81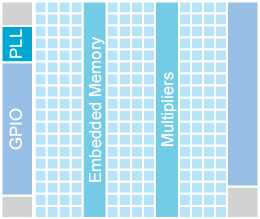 (5 x 5 mm, 0.5 pitch)
Dimensions and blocks shown for illustrative purposes.
Use Cases
Capacitive Stylus
The algorithm in T4 FPGA acts as a coprocessor by computing location data based on sensor inputs. Data from that algorithm is then passed to MCU and quickly transferred to base unit controlling the display. Speed, low power, and small footprint were important attributes in this case.
Virtual Reality Headset
This is a multi-sensor aggregation application that computes movement data based on inputs from user inputs and other location sensors. The algorithm in the T4 provides control functions. Small form factor and low power are important for this design.